SITAMARHI DISTRICT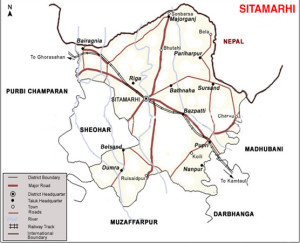 The district of Sitamarhi was carved out of Muzaffarpur district on 11th December 1972. It is situated in the northern part of Bihar. Its headquarter is located at Dumra, five kilometers south of Sitamarhi.
How To Reach
By Air(Airport):-
The nearest airport to Sitamarhi is the Jaiprakash Narayan International Airport ,Patna which is about 131 kilometres  distant.
By Train:-
The town is on the Darbhanga-Raxaul-Narkatiaganj railway line in Samastipur division of East Central Railway . The Darbhanga-Sitamarhi-Raxaul track was converted to broad gauge in February 2014. Another broad gauge track connects Sitamarhi to Muzaffarpur. Direct train services are available from Sitamarhi railway junction to places such as New Delhi, Kolkata, Varanasi, Lucknow, Hyderabad and Kanpur.
By Road :-
Well connected to other city through National Highway – 77.104 State Highway – 52 and Other road -Sursand Pupri Road,Parwaha Lalbandi Rd,Kuma Bela Rd,Riga Majorganj Road Parsauni Riga Road,Belsand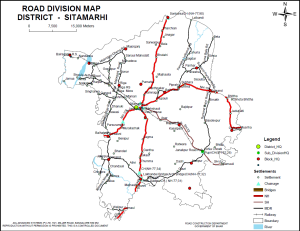 Minapur,Majorganj-Dheng Rd,Sursand Parihar Road,Sisaula Aktha Road
Sitamarhi is about 127 km from Patna.
Popular tourist destinations
Janki Temple (Sitamarhi):- It is located about 1.5 Kms off  the railway station and the bus stand of Sitamarhi.This temple is traditionally considered to be the birth place of Sita or Janki, the daughter of king Janak. It's history goes back to Treta Yug. Sita, the wife of Lord Rama sprang to life out of an earthen pot, when Raja Janak was ploughing the field here to impress upon Lord Indra for rain. It is said that Raja Janak excavated a tank at the place where Sita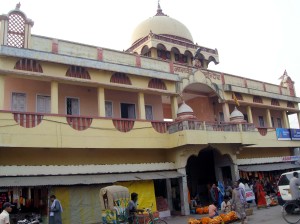 emerged and after her marriage set up the stone figures of Rama, Sita and Lakshman to mark the site.This tank is known as Janaki- Kund and is adjacent south of the temple.In course of time, the land lapsed into a jungle until about 500 years ago, when a Hindu ascetic, named Birbal Das came to know the site by divine inspiration where Sita was born. He came down from Ayodhya and cleared the jungle. He found the images set up by Raja Janak, built temple over there and commenced the worship of Janaki or Sita. The Janaki Mandir is apparently modern and is about 100 years old only.
Urvaja Kumd (Jankisthan):-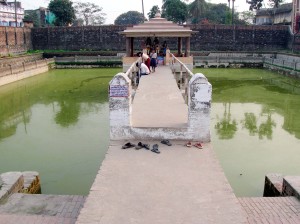 Janki Temple (Punaura):- This temple is about 5 kms South West of Sitamarhi. It also takes the same claim to be the birth place of Sita and is considered to be sacred place where people go for a pilgrimage. King Janak was blessed with a wish from God Indra (Rain God) that if he ploughs even a barren field, it will become productive. Once southern part of his kingdom came into grab of drought and farmers and their families were dying of hunger.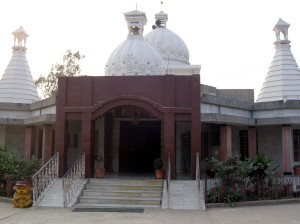 Then the King came to rescue of its people. He ploughed a barren field in a village called "Punaura" of his kingdom. While ploughing the field his oxen hit a pot.The pot had a baby girl in it. The baby was Goddess Sita. The King who did not had any baby, gave his name to the baby. It is said and seen that Sitamarhi didn't had any drought since then due to the grace of God Indra.
The site was developed with a Modern Temple of Goddess Sita funded by Birla Family of India. Much later Bihar Government came to the rescue of this place, developed it into a Pilgrim Spot and declared it a Tourist Destination of Bihar. Today Punaura Dham has all the facilities to accommodate out-station pilgrims at its campus in Punaura Village.
Janki kund(Punaura) :-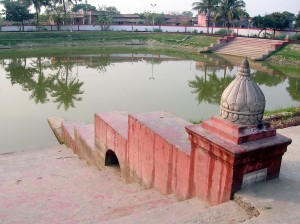 Vaishno Devi Mandir :- It is situated 3 Km in West from Sitamarhi Railway Station on Thana Road .The devotees from sitamarhi visit Mata Vaishno Devi Mandir in Jammu in Kashmir.
These devotees visiting Jammu became so large in numbers that locals felt the need have a temple of Mata Vaishno Devi in their town. Two decades ago they started the work of constructing the Temple and after years of dedication the temple was made.
Haleshwar Sthan :- This is 3 Kms. north-west of Sitamarhi. As the myth goes, the king Videha had founded a temple of Lord shiva on the occasion of Putra Yeshti Yajna.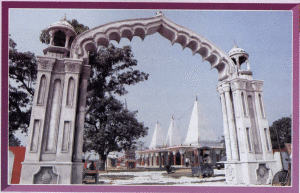 Panth-Pakar :-
About 8 kms North-East of Sitamarhi. An old banyan tree is still standing here .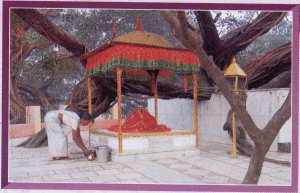 It is said that when Sita left Janakpur in a Palanquin for Ayodhya after the marriage to Shri Ram, she was given rest for a while under this very banyan tree.
Baghi Math:-
It is about 7 Km north-west of Sitamarhi, in Baghi village, there is a big Hindu monastery which contain 108 rooms. This is a famous place for worship and performing Yajna.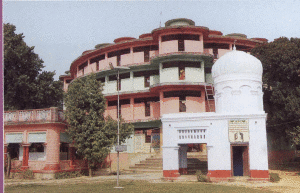 Baba Nageshwar Nath temple(Pupri) :-
It is situated in Pupri village, about 20 Km west of Sitamarhi. There is a famous Lord Shiva temple named Baba Nageshwar Nath. It is said that Lord Shiva has himself had appeared as Nageshwar nath Mahadeo.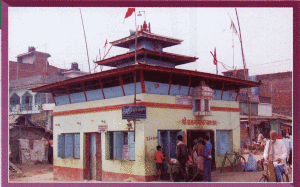 Goraul Sharif :-
HAZRAT MAULANA BASHARAT KARIM R.A
GORHOAL SHARIEF,
It is situated about 26 Kms from Sitamarhi town. This is a very sacred place for Muslims.
Sabha Gachhi Sasaula:- It is 20 Kms. west of Sitamarhi. This is a sacred place where Maithil Brahmins gather every year and hold matrimonial negotiations on a large scale, which finally leads to the marriages. This is a symbol of the ancient culture of Mithila.
Shukeshwar Asthan :- It is situated 26 Km north-west of Sitamarhi. This was the worship place of Sukhdev Muni, the great saint. Shukeshwarnath a big and ancient temple of Lord Shiva is still exists here.
Tomb of Khwaja Bhil( mouza Chakbhil near Bagmati):- He was also a disciple of Baba Gunj Shakar.
Sihaul Fort (18th Century AD):- This is situated near Sonbarsa i.e. in the northern part of the district. The old fort was erected by the Maharaja Amar Singh, one of the ancestors of the Sonbarsa Raj family in the 18th century.
Anand Math:-
Shri Ram Temple (Basaha):-
Dargah Hazrat Sarkar Mohibba R.A (Pokhraira Sharief):-
Mazar Sharif  Hazrat Saiyydul Zaman R.A(Pokhraira Sharief):-